Coming soon - maybe next century ;-)
Greycrow is online since 1982 and was the one and only Greycrow at that time!

Greycrow's homepage
dj@greycrow.de
Kunst schenken!
Herbert Bodemer, Galerie zum scharfen Eck.

Greycrow's bester Tag bei dnetc ;-)
Greycrow: User of the day bei lhcathome/test4theory ;-)


www.php.net

greycrow uses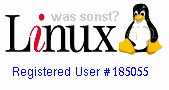 www.linux.org

Hier sind meine Tags + wir haben Holz vor der Hütte...
terror+Sitemap...



31-01-08 PR3